Philadelphia Document Shredding
Philadelphia Document Shredding offers cost-effective shredding solutions for your sensitive business information. We understand the necessity to protect your sensitive papers as well as comply with all Pennsylvania and federal privacy laws.
About Philadelphia Document Shredding
We can meet your destruction needs at any level. Many of our clients begin as one-time purges at the end of the year and grow into recurring shredding clients. We can get you the most competitive rates in Philadelphia.
Philadelphia Document Shredding is your premier source for secure, reliable and quality shredding service options in the Philadelphia metro area. Your security is our priority, and all of our contractors processes comply with all Pennsylvania and federal privacy laws.
We provide several shredding service levels developed to meet your needs at reasonable rates.
Why Homes in Philadelphia Need to Shred Their Documents
Cases of identity theft are constantly on the rise. The only way to protect you and your family is to completely destroy your documents before they leave the safety of your home and get thrown away. Find out more about what you can do to ensure your private information stays private here.
We handle jobs ranging in size from one box to warehouses full of paperwork, and our partners can stop by as often as you need.To get a free, no obligation quote on document shredding today, fill out the form to the top of the page or give us a call at (215) 874-6456.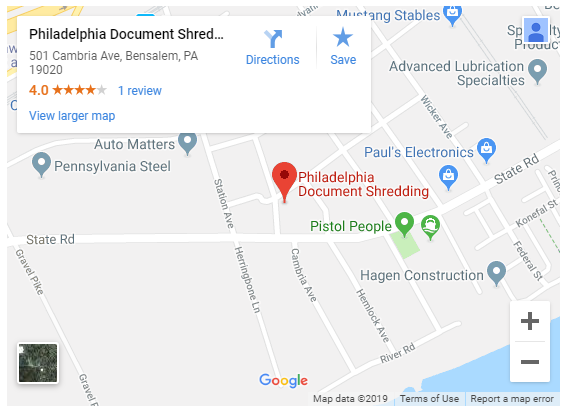 Get Free Quotes on Shredding in Philadelphia
Philadelphia Shredding Services
Service Options Available in Philadelphia
Ongoing Service – Daily, weekly, or monthly scheduled shredding services. You are given secure bins which you fill up paperwork overtime. A driver is regularly sent to pick up and shred the contents.
Purge Service – Annual, one-time, or occasional shredding services. For a one-time shredding visit a driver comes right to your location and either shreds at your office or an offsite facility in Philadelphia. Costs are based on volume for this service.