Philadelphia Mobile Shredding
On site, shredding consists of driving a mobile shredding truck to your Philadelphia business. The trucks are fully self-contained and can operate without the need for outside electricity. They will shred in no time what it would take you weeks to shred with a basic desk shredder.
If you need to observe your documents being shredded then a mobile shredding solution is for you.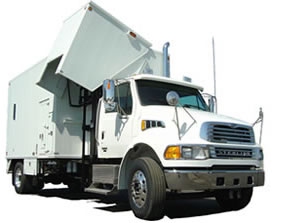 Shredding trucks shred 6,000 pounds every hour so most projects only take a couple of minutes. In moments they can finish the typical business shredding purge. They can handle anything from a box to a warehouse.
For regularly scheduled shredding, locked cabinets are provided to your business at no cost. You simply drop any papers into the bin, and a driver comes by on a regular schedule to shred your items and prevent your private business data from falling into the wrong hands.
How On-Site Shredding Works in Philadelphia:
Collect the files you need to be destroyed in the provided bins. No need for removing folders or paperclips.
A truck drives to your location and your materials are shredded into a secure box of the truck. You can observe the whole process.
A Certificate of Destruction is given for certifying the completion of the job.
The paper bits are baled, pulped down, and recycled into new paper.
Get Free, No Obligation Quotes on On-Site shredding services in Philadelphia and Across Pennsylvania Today!
On site, shredding is the perfect solution if you are responsible for witnessing the destruction of your materials. Trucks are equipped with powerful industrial shredders so you can rest assured—your documents are long gone.
To learn more about our various shredding service options available in Pennsylvania from Philadelphia Document Shredding, simply give us a call at(215) 874-6456 or fill out the form on the left for free quotes today.